Fabriform®
What is Fabriform® ?
Fabriform® is an economical, concrete-forming system used to protect soil from erosion. The Fabriform® system utilizes a specially woven, double-layer fabric made of 100% continuous multifilament high-tenacity nylon yarn. For added filtering characteristics, adhesion and external reinforcement, 50% of the nylon yarns, by weight, are textured.
The Fabriform® is field sewn at the jobsite, laid in position on a prepared grade and then filled with a highly fluid concrete mix by means of pumping. The fabric is designed to retain the solids in the concrete mix, therefore allowing installation under water as well as in the dry. Once the Fabriform® is filled, the installation process is complete with no forms to remove or any further curing needed. Fabriform® is a simple and cost-effective method of erosion control.
This system has allowed for fast and economical construction of erosion protection for over 50 years. Fabriform® was developed and patented by Construction Techniques, Inc in the mid-1960s and is still the leading manufacturer of high-quality, fabric-formed concrete revetments.
There are three main styles of Fabriform®: Filter Point (FP), Unimat (UM), and Articulating Block (AB). Some of the determining factors for the selection of style are soil condition, ground water, wave action, water flow, and depth.
The Fabriform® system does not require any additional time for heavy equipment to install. Riprap or precast articulated concrete blocks (ACBs), for instance, will require additional heavy equipment time to place the rock or ACB mats. Fabriform® and ACBs will have anchor trenches that will need to be excavated by smaller equipment like a mini-excavator or trencher.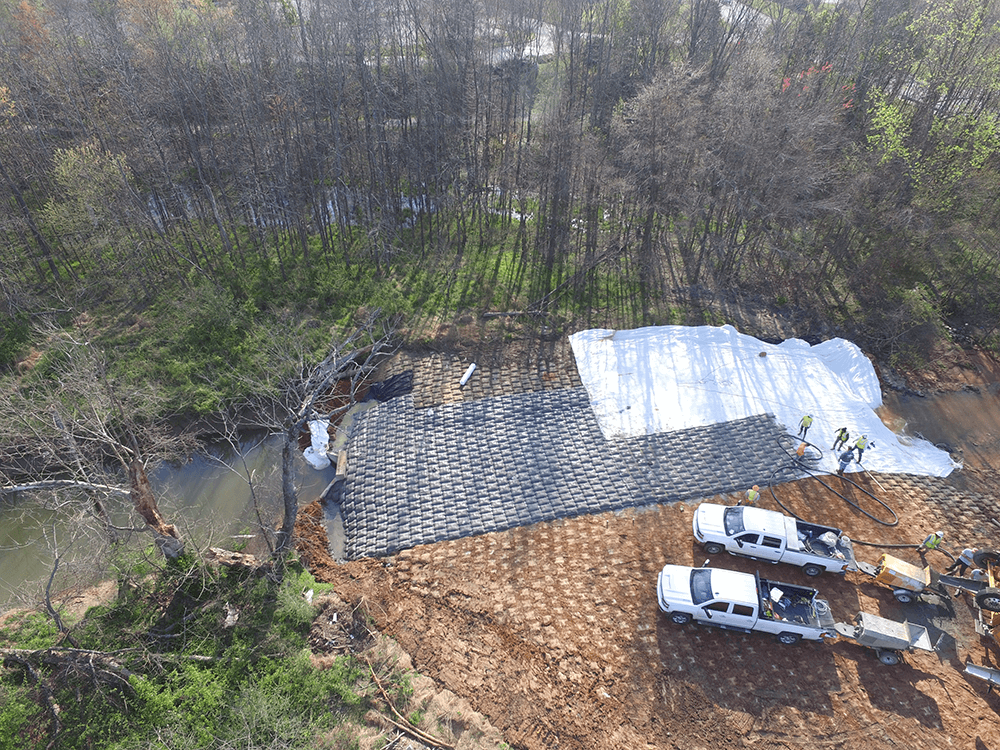 Fabriform® is shipped via common carrier either on pallets for small orders or loose in box trailers for large orders. RTC Southern's standard panel (roll) size is 3,600 SF that measures approximately 6'x3'x2' when rolled up. This allows for easy handling. Riprap is shipped in multiple loads in dump trucks, and ACBs are delivered by semi-trailers, which usually carry only a few mats per load. Conventional concrete is obviously shipped as needed.
Fabriform® panels (rolls) are stored on-site in Connex boxes (storage container) which can hold up to 150,000 SF in a 40' container. Riprap and ACBs have to be stockpiled or delivered as needed in multiple shipments.
RTC Southern's crew size varies depending on many factors. Most installations incorporate a 4-man crew, which is usually smaller than a crew size needed to install ACBs. RTC Southern provides a crew that is much more experienced than most other fabric-form installers. Fabriform installation labor is also lower than conventional concrete labor because of the need for forming and finishing.
RTC Southern's production is a result of over 40 years of experience. Several factors affect the rate of production such as Fabriform style and size, application, site conditions, etc. A common Fabriform ditch lining averages around 3,000 SF per day. ACB installations are usually more time-consuming because the mats have to be unloaded, precisely laid, and cabled together. Riprap installations usually incorporate only a one-man crew, the track hoe operator; therefore, it can take considerably more time to place riprap in the bottom and both side slopes of a ditch, especially if the operator has to place from both sides of the ditch. Conventional concrete linings have to be formed, poured, finished and stripped, adding considerable amounts of time to the installation.
Fabriform® is pumped with a fine aggregate concrete; therefore, having our equipment (truck, pump, and concrete truck) extremely close to the installation location is not an absolute necessity. RTC Southern has the ability to pump up to 400' with a conventional setup. For longer distances, we can pump up to 1,000 feet. Installation of ACBs, riprap, and conventional concrete must have all of the equipment very close to the installation location or double handling may be needed.
With the Fabriform® system, you have the fabric itself and the concrete grout. The fabric is very economical compared to the other types of revetment systems. The concrete grout is generally about the same price as 3,500 psi concrete, but is dependent on the local market. The material cost for ACBs are usually two to three times more costly than an installed Fabriform system. Riprap cost can vary depending on the location of the project and can be significantly higher where rock quarries are not close to the jobsite.
The Fabriform® system is a monolithic system that acts as one unit, unlike riprap that is many pieces which can be displaced by hydraulic flows. A Fabriform® system can be easily designed with greater or lesser attenuation of hydraulic energy and hydraulic friction. Fabriform® can be easily sized to resist hydraulic uplift, and it can also be easily designed to relieve hydrostatic pressure beneath (or behind) the system. It can be easily designed to accommodate changing soil and water conditions. All of these criteria can be ECONOMICALLY addressed just by selecting the right style and size of Fabriform®.